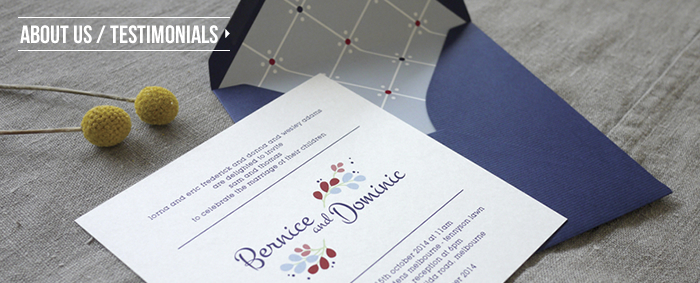 We take absolute pride in our work and love to keep our customers happy. Here is a selection of what they have to say about our wedding invitation and stationery work via the Easy Weddings website and directly from our customers!
Nicola Jones
Dear Papermarc, A quick note to say a massive THANKYOU for your excellent customer service, great product and speedy delivery! After a very disappointing customer service experience at a store here in Hobart I went searching for an alternative source for my wedding stationery. I was immediately impressed by your website but a little apprehensive about ordering online and buying sight unseen. However, after a call to your store I felt confident I would get what I was after. Your customer service rep spent 20 minutes or so answering all my questions and making suggestions regarding paper colour match and gsm. Not once did I feel rushed to make a decision. Again, many thanks guys. I have certainly told several people already about my great experience with Papermarc and will continue to do so! Cheers, Nicola
Fiona & Henry
We would like to thank everyone at Papermarc for making our wedding so special. Everyone I have dealt with there has been absolutely lovely and so helpful it made everything so easy for me your customer service is outstanding. If there is anything I can ever do for you please do not hesitate to call me and if you could please thank everyone on our behalf. Thank you so much
Kristin & Jarrod
Dear Papermarc Team, Thank you for each of your hard work and help for creating all of my cards for wedding last Sunday especially Olga, Michelle and Anita =). It was elegant and beautifully packed with love. Thank you for your staff patient when dealing with my queries during planning and design all the cards. I very much appreciated it. Keep up the great work and Thanks for everything!!
Vanessa S.
All the staff at Papermarc have been so helpful. When emailing questions or making changes to our invitations in the proofing stages they were very quick to get back to us. We both loved all of our invitations.
Adriana R.
What a great team! They gave some great ideas, nothing was difficult for them and timelines were well met! The invitations, thank you cards, bomboniere tags were beautiful! Highly recommend them!
Katrina C.
Was so happy with the outcome of my designs for my invitations that Papermarc helped me with. They were very professional, and quick, in every possible way
Jing H.
I had my wedding invitations done with Papermarc. Wonderful experience for us, cards were beautifully done and delivered on time. Along the process, the designer was helpful and being in contact to confirm the design. They are very professional, and so easy to talk to.
Renee C.
Beautiful print work and the lovely staff had no problem with producing many drafts until we were happy!
Katherine B.
Beautifully made and ready exceptionally fast
Catherine C.
Wonderful service and beautiful invitations. Highly recommended.
Caitlin C.
Great range of beautiful wedding invitations. Very reasonably priced.
Miss Lauren T.
The people at Papermarc were brilliant, I went in there told them what I wanted and they put together a sample and told me the cost of each invite and then after they were ordered and paid for they were ready in a week.
Ming G.
Fantastic company, will use them again for other occasions
Miss Melissa W.
Very professional, high quality finished product, would highly recommend.